10 Best Upscale Restaurants in Seattle
Explore top Seattle dining experiences to add to your culinary bucket list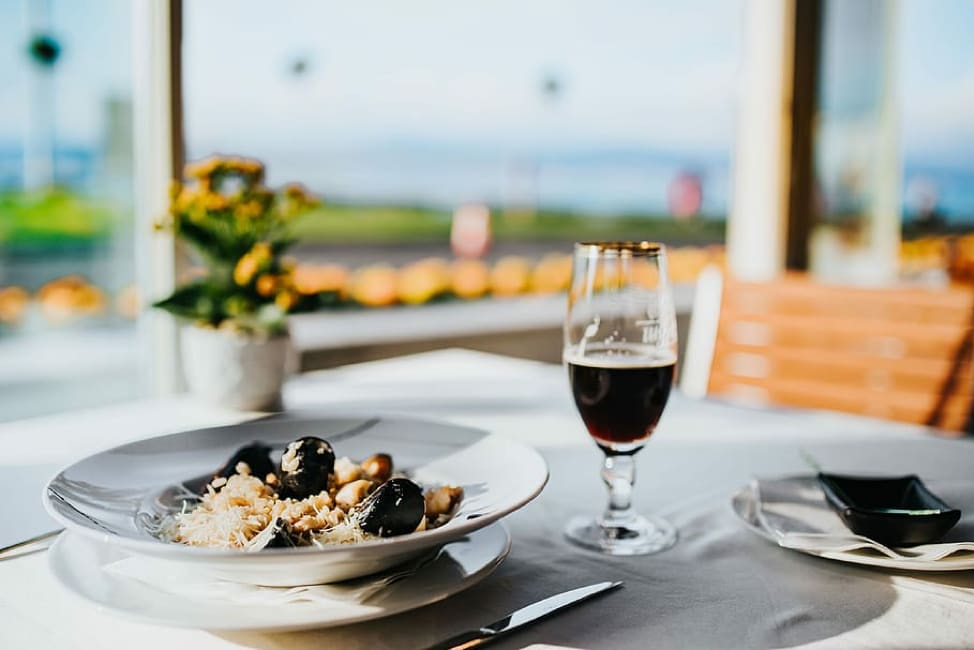 When it comes to food, 'best' can be such an arbitrary term, often decided by the palate and preferences of the one enjoying the meal. Seattle easily has dozens of notable restaurants that deserve your attention, thanks to the region's rich bounty of local seafood, produce, wines and more; when you narrow the pool to fine dining, however, that list becomes easier to digest, and the term 'best' becomes far more objective. From a non-traditional steakhouse and timeless Italian to a sushi tasting experience and sustainable New American bistros, Seattle's upscale dining scene has it all—consider this your guide to the spots to cross off your list first.
2576 Aurora Ave N, Seattle, WA 9810
With countless accolades under its belt, including three James Beard awards, Canlis is easily considered the most upscale fine dining experience in Seattle. It all begins when you enter the airy dining room, greeted by the warm and attentive staff and escorted to your perfectly-lit white-clothed table. As you peer out the floor-to-ceiling windows over Seattle, Lake Union, and the Cascade Mountains, and dine on delicious timeless dishes like sea bream, dry-aged lamb and 23-bean stew, you can't help but feel wrapped in luxury. Canlis takes you back in time to a more glamorous era, and as one of the few places in the city where people still get dressed to the nines for dinner, it's easy to understand why this hilltop spot has withstood the test of time as a Seattle landmark restaurant for nearly 70 years.
1040 E Union St, Seattle, WA 9812
The word 'steakhouse' brings certain images to mind: a dark dining room, patrons in suits doing business deals over heavy cuts of beef, potatoes, and glasses of whiskey, black leather booths, and a mahogany bar. Bateau is not any of those things. Serving a French-inspired beef-centric menu in a mostly white, simple space, head chef Taylor Thornhill presents a list of all the available cuts and sizes of meat on a chalkboard in the main dining room, allowing diners to choose their exact cut, which is then crossed off the board upon ordering. The process feels personal and unique, and oddly satisfying that no other person will have the exact same steak as you. A 5-course beef-centric Tasting Menu with an optional pairing from Bateau's extensive local and imported wine selection is also available, and the burger has been hailed as possibly the best in Seattle. Incorporating fresh, seasonal ingredients and nodding to French culture, Bateau flips the traditional notion of a steakhouse on its head.
2717 61st Ave SW, Seattle, WA 9811
Housed in a century-old log cabin on Seattle's Alki peninsula, Il Nido has quickly become one of the city's most beloved Italian restaurants since its opening in summer 2019. For years, the Alki Homestead, now home to Il Nido, was a destination for American comfort food, drawing crowds to its spot on the Puget Sound to enjoy fried chicken dinners and buttered biscuits with great enthusiasm. Now serving traditional Italian dishes and hearty homemade pasta in the freshly renovated building, Il Nido preserves the history and rustic charm of its predecessor while delivering an upscale, refined dining experience. Guests wait up till midnight to snag a table when new reservations are released. With a menu stacked with mouth-watering dishes like burrata with 24-month aged prosciutto, house-baked focaccia, fazzoletti pasta with mushrooms and a poached egg, braised rabbit leg and more, you'll never leave a drop of sauce or speck of food behind.
5607 Rainier Ave S, Seattle, WA 9811
Pacific Northwest pride is alive and well in Seattle, and few restaurants embody the commitment to celebrating the region than Archipelago. Bridging their Filipino culture with their Seattle upbringing, the chefs behind this cutting edge restaurant are masters at blending their personal identities to create a 10-course tasting menu that brings together traditional and innovative Filipino dishes and flavors and uses only locally sourced ingredients from the Pacific Northwest. Each item is accompanied by a description of how it connects to the chef's heritage, making for a memorable and personal meal that feels luxurious but not overly formal. Every course is masterfully executed and creatively presented, and diners leave full in more ways than one with a piece of Filipino-American culture.
2411 Alaskan Way, Seattle, WA 9812
There's nothing like finishing an expensive meal at a hotel restaurant and feeling like you could have had the same experience somewhere else. There's no risk of feeling that way after dinner at Six Seven Restaurant. Located in Seattle's only waterfront hotel, The Edgewater, Six Seven doesn't rely on glitz and glam to make a name for itself, rather it draws from the flavors of the Pacific Northwest, Pan-Asian cuisine and regional American fare to create a menu that celebrates the land, the sea, and exquisite culinary skill. With flavorful seafood-led seasonal dishes, breathtaking views, an ever-evolving wine list from the finest Washington, California, and Oregon vineyards, and attentive service, Six Seven is the perfect spot for a special occasion, romantic night out or luxurious spot to watch the sunset over Seattle with a drink in hand.
1531 14th Ave, Seattle, WA 9812
In a city that experiences so much rain, fog and grey weather, it's important to have a place to turn to when you simply want to feel warm and comforted. For many Seattlites, Zagat-rated Spinasse has become that high-end, yet familiar Italian spot where crowds flock for large bowls of homemade pasta to make them feel whole again. While the sublime ricotta cavatelli, pillowy potato gnocchi, and Alaskan prawn risotto are the stars of the show, the rest of the menu is not to be ignored, from the pan-seared trout and tangy chicory salad to the fried zucchini blossoms, served only in the summer, to the mascarpone gelato. If you can't decide, Spinasse also offers a prix fixe option that incorporates every appetizer, pasta, and entree offered in a family-style tasting, perfect for large groups or those simply looking for the ultimate upscale Italian food experience.
2209 Queen Anne Ave N, Seattle, WA 9810
At Eden Hill, chef-owner Maximillian Petty, who has cooked alongside world-renowned celebrity chef José Andrés, creates an intimate and exclusive experience for 24 patrons in a modern but modest space in Seattle's Queen Anne neighborhood. Offering two tasting menus, the 13-course Grand Tasting alongside an abbreviated 6-course version, Eden Hill fields seasonal fare critically acclaimed for its provocative combinations, incorporating flavorful delicacies from foie gras and squid to wagyu short rib and miso cod. From start to finish, the experience at Eden Hill is phenomenal and a can't-miss for foodies and lovers of luxury alike.
2001 4th Ave, Seattle, WA 9812
Across Seattle, people have been striving for years to live in a way that is more friendly to the planet, but few think about how to dine out more sustainably. Since 1989, Dahlia Lounge has been the leader in the city's local, organic, sustainable food movement, serving seasonal dishes inspired by the spirit of the Pacific Northwest and incorporating ingredients from the city's backyard. The menu features modernized bistro classics like Washington beef tartare and Dungeness crab cake with hearty fingerling potatoes alongside ample vegetarian and vegan options, like homemade gnocchi, a roasted squash tart, and chicken-fried celery root, offering a dish for all tastes and preferences. An icon on the Seattle fine dining scene, Dahlia Lounge's food, service, and ambiance continues to excite even after 30 years.
86 Pine St #1, Seattle, WA 9810
Often heralded as the best sushi in the city, Shiro Kashiba's namesake restaurant in Downtown is the ultimate way to enjoy seafood in Seattle. Trained by the Jiro Ono - made famous by the mesmerizing Jiro Dreams of Sushi documentary - Kashiba has created one of the most coveted sushi experiences in the city just steps away from the iconic fresh fish counters at Pike Place Market. Whether you eat at the counter or are able to snag a table reservation ahead, you'll feel an intense connection to the sea as you dine on nigiri expertly brushed with the perfect amount of soy sauce, one of the four different types of tuna, delicate uni, or a simple, yet decadent Alaskan king crab handroll. At the counter, the omakase experience is intensely personal, as Shiro designs a lineup specifically for your tastes and preferences, and explains the origin and flavor profile of each of the upwards of 25 pieces. The meal only stops when you alert the chef that you're approaching 90% full, at which point they deliver the final cuts.
400 1st St, Langley, WA 9826
Exuding tranquility, splendor, and charm, The Inn at Langley is known for its luxuriously appointed rooms, relaxing ambiance and exceptional fine dining. Located on Washington's Whidbey Island an hour and a half outside the city, the destination and the meals that meet you at the end of the trip are well worth the journey, making it the perfect spot for an indulgent weekend away. Blending Frank Lloyd Wright-influenced architecture with Pacific Northwest mountain cabin vibe, the Inn at Langley's bones set the tone for the fresh and seasonal, yet innovative and modern prix fixe multi-course meal that entertains as much as it pleases the taste buds. The chefs move from kitchen to dining room to interact with diners, serve the dishes and explain the colorful and artfully plated dishes you're about to enjoy, making the experience feel that much more premium.

Looking for luxury real estate in Seattle, WA so you can live amongst this incredible dining hub? Contact us today. It would be our pleasure to help you find a piece of Seattle luxury real estate that's right for you.