10 Best Farmers Markets in the Seattle Area
Where to snag the best locally grown goodness across the city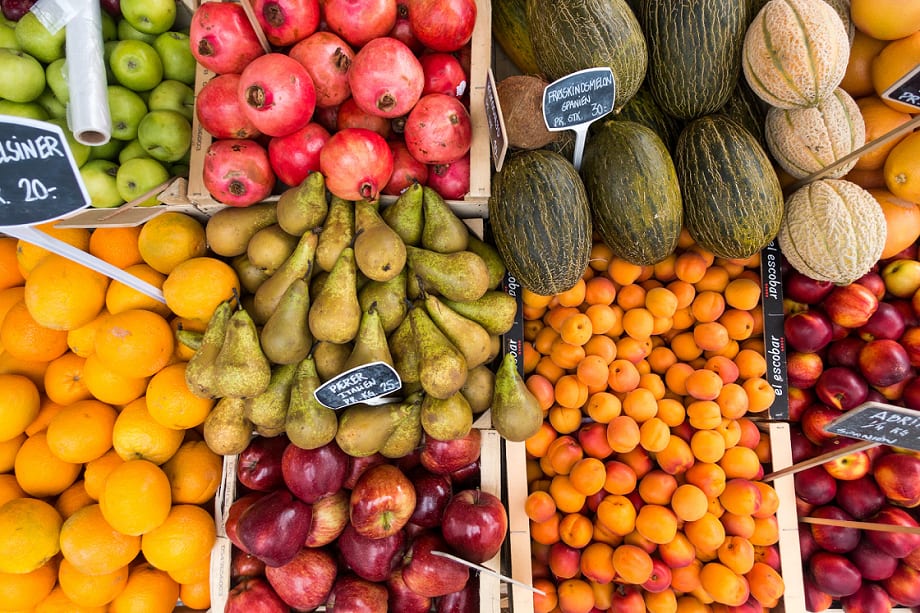 With a Mediterranean climate that is surrounded by mountains to the east, water to the west, and the valley to the north, Seattle makes for a great place to grow food. From peaches, apples, and pears to organic wines and freshly harvested seafood, the Pacific Northwest offers its residents an abundance of locally sourced offerings year-round, and for many in the Seattle area, visiting the neighborhood farmers market is a key part of their weekly ritual. Seattle has a rich concentration of farmers markets all over the city, with most supported by the Neighborhood Farmers Market Alliance (NFMA), a community-based organization dedicated to supporting Washington's farmer families and educating residents on the benefits of buying directly from their local farms. From markets close to home to those across town, here is your guide to Seattle's best in your backyard and beyond.

University District

Operating in the University of Washington's namesake neighborhood since 1993, the University District Farmers Market is a Saturday staple in this diverse pocket of Seattle that brings together historic architecture, community cafes, restaurants and theaters, and boutique shopping areas around the University's leafy campus. Known around town as one of the best in the city, this farmers market sources from up to 70 large and small local farms, vendors and chefs throughout the year, and the mix of prepared food is presented alongside raw fruit, vegetable, dairy, meat, and seafood stalls to avoid the concern of delayed gratification, allowing you to preview the goods with a snack in hand as you shop for the week's provisions. While you wander, you can't miss the mouthwatering pastries from Standard Bakery or the made-to-order breakfast sandwiches from Nature's Last Stand.

West Seattle

On Sundays on the corner of Alaska Street and California Avenue, you'll find the West Seattle Farmers Market, one of the oldest and largest weekend markets south of the ship canal. Taking over the heart of this laid-back residential neighborhood every week, the 20-year-old gathering of vendors draws crowds seeking a healthy selection of wine, cheese, organic produce, fresh pasta, Greek yogurt, fish, and more. From vegan cheese from Chelo Cashew Creme and Cucamelons from Whistling Train Farm to chicken from Green Bow and organic veggies from Oh Yeah! Farms, the West Seattle Farmers Market has something for everyone. Thanks to its location in Junction—the retail center of West Seattle—after you pick up provisions for the week, you can browse for a rare record at Easy Street or check out the latest vintage curios at the Antique Mall of West Seattle.

Capitol Hill

Catering to Seattle's blossoming young professional population, the Capitol Hill Farmers Market is open Sundays 11 a.m. to 3 p.m. and awaits downtown's post-partying crowds looking for treats like doughnuts from 9th & Hennepin, tamales from El Chito, and gorgeous gluten-free cakes from Grain Artisan Bakery. After moving from a few different locations due to construction, this year-round market has found its home next to Cal Anderson Park, providing produce, meat, fish, cheese, wine, and more, plus hot food stands in Seattle's city center. Whether you want to get your weekly grocery shopping done or grab hot food and enjoy lunch around the park's reflecting pool and fountain, the Capitol Hill Farmers Market has it all.

Wallingford

The family-friendly neighborhood of Wallingford is one of Seattle's most desirable residential communities. Located on the north shore of Lake Union, Wallingford is home to waterfront views, casual restaurants and pubs along the main commercial strip, and many parks, one of which plays host to the weekly farmers market. While it's not the largest around, the Wallingford Farmers Market brings vendors from all over the state to Meridian Park, allowing shoppers to taste all that Washington has to offer in one spot. Open seasonally on Wednesdays from 3 to 7 p.m., this market is a great place to stop for a snack with the kids after school and picnic in the park, or stop after work to pick up midweek ingredients for dinner.

Magnolia

Another wonderful, small, no-nonsense community market is the farmers market in Magnolia, Seattle's northwestern peninsula that offers views of the San Juan Islands and access to the city's largest green space, Discovery Park. On Saturdays in the summer, neighbors come out to support their local farmers and stock up on produce and more for the week, including the healthy selection of vegetables, fruit, baked goods, flowers, honey, and more. With high-quality vendors bringing their best June through October, the Magnolia Farmers Market is just another reason this hilly neighborhood is beloved by the entire city of Seattle. Surrounded by a number of quaint coffee shops and small stores, you can easily spend the morning enjoying an artisanal breakfast from the market and exploring Magnolia, its parks, and attractive residential streets.

Queen Anne

Home to the iconic Space Needle and filled with stunning 19th-century homes, Queen Anne is known around Seattle for its mix of happening attractions and quiet residential streets. As the only independently run farmers market in Seattle, the Queen Anne Farmers Market was started by residents who saw it as exactly what this neighborhood needed in order to be complete. This strong local spirit remains today, with this weekly seasonal market offering a mix of farm vendors, live music, chef demos, and children's activities every Thursday afternoon from 3 to 7:30 p.m. Dedicated to building community and bringing the Pacific Northwest's best to Queen Anne, including a number of top food trucks, this farmers market is the perfect place for a Thursday night dinner date or refill the fridge with locally grown goodness for the weekend.

Phinney

Located blocks from Seattle's beloved Green Lake in family-friendly Phinney Ridge, the Phinney Farmers Market is a beloved neighborhood gathering curating some of Puget Sound's freshest fruit, vegetables, and more. Open early June through late September on Fridays, this market makes for a great date or family night activity for those looking for a low-key evening of enjoying high-quality food and live music from local artists. From a robust selection of produce—including strawberries, stone fruit, and crisp peppers—to kid-approved comfort food like pizza and ice cream, Phinney Farmers Market offers a wide variety of vendors and is a great way to kick off your weekend Seattle-style.

Ballard

Known for its bustling restaurant scene, Ballard is a hip waterfront neighborhood on Seattle's west side, full of trendy eateries, boutiques, bars, breweries and more. While Saturdays are for snagging a table at one of Ballard's hottest spots, Sunday mornings are for the market. Selling produce exclusively from Washington State farmers, the Ballard Farmers Market has been a community staple since 2000, where residents turn for a trusted selection of locally sourced goods year-round. Hosting over 100 vendors every Sunday, this greenmarket is the ideal Seattle spot to plan your meal prep for the week, providing the perfect place to pick up everything from freshly caught salmon to handmade hummus. In addition to fresh food, you'll also find live music, craft vendors, and more among the seemingly endless rows of stalls along the historic cobblestone stretch of Ballard and 22nd Avenues.

Pike Place Market

Pike Place Market is the most famous market in the city for a reason. With one of the widest selections of local goods in the city, Pike Place is the ultimate spot in Seattle for everything you could need, no matter the cooking occasion. Since 1907, Seattlites have turned to Pike Place Market to fill their pantries and feed their families, offering the opportunity to "Meet the Producer," a mandate since the market's founding. Locals often frequent the market in the mornings before the crowds hit, picking up fresh fruit and vegetables and speaking directly with Washington State farmers on the best seasonal fare. Beyond produce, you can pick up clam chowder at Jack's Fish Spot, flakey pastries from Le Panier, decadent dairy from world-renowned cheesemaker Beecher's, or Filipino cuisine at Oriental Mart—the opportunities are endless!

Bellevue

Across Lake Washington, the city of Bellevue is quickly becoming one of the most desirable places to live in the Seattle-area and the Pacific Northwest as a whole. With a more quaint downtown area and a more serene vibe, Bellevue offers its residents a more laid-back lifestyle while maintaining easy access to all Seattle has to offer. Despite its classification as a city, most parts of Bellevue feel like a small town, particularly thanks to community gatherings like the farmers market. Supporting small family farms, the Bellevue market helps locals to explore the latest from unique vendors alongside prepared foods. Open on Thursday afternoons, the market offers a mix of vendors selling seasonal fruits and vegetables, cut flowers, one-of-a-kind artisan goods, and tasty cuisine, as well as live entertainment, making it the perfect place in Bellevue to grab a bite to eat and enjoy music from local bands on a Thursday evening.

Looking for luxury real estate in Seattle, WA so you can have access to these great farmers markets year-round? Contact us today. It would be our pleasure to help you find a piece of Seattle luxury real estate that's right for you.